Work Time Tracker & Attendance Tool
Employee Time Tracking Software with Screenshots, Reporting & Activity Monitoring
---
Monitor All Devices from One Interface Simplify Employee Time Tracking with InterGuard
InterGuard is a lightweight app that you install on your employee's endpoint device, such as PC, Mac, mobile phone, tablet or virtual server. From the moment it's installed, it begins tracking employee work time and gives you powerful reports and stats on how they spend their time.
Track Logins & Logoffs
Track attendance to make sure employees work their full shift. Discover who arrives late and leaves early.
Track Active & Idle Time
Know each of your team members' activity rates and even take optional screenshots to see work as it unfolds.
GPS Location Tracking
Available for Android and iPhones, track employee phone GPS location to see if they are on the road, or if they've entered a job site.
Measure Productivity
Don't just measure how much time an employee is active. We'll tell how much active time was spend on work-related versus personal tasks.
With an improved user interface and a gamut of employee productivity monitoring features, InterGuard converts data into useful insights and has a host of proactive alerts for larger businesses, especially those now focused on managing a remote workforce.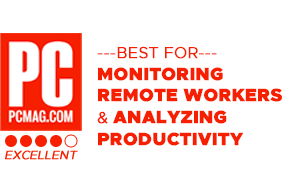 Track Time Wherever and Whenever Your Team Works
No need for timesheets. InterGuard automatically records employee computer and phone activity, and delivers easy-to-understand reports on attendance and hours worked. InterGuard also tracks how much time was spent on productive websites and apps (e.g. excel) versus how much time was spend on non-work related activities (e.g. amazon.com).
---
Team Time Tracking Overview
Get an at-a-glance overview of all employees in your org (or sort by team) so you can immediately spot problems early. From there, you can drill down into any employee for detailed time and productivity metrics.
Get quick insight into each employee at a glance:
User Activity Heatmaps
Login / Logoff Times
Unproductive Time & Productive Time
Real-Time Desktop Screen Capture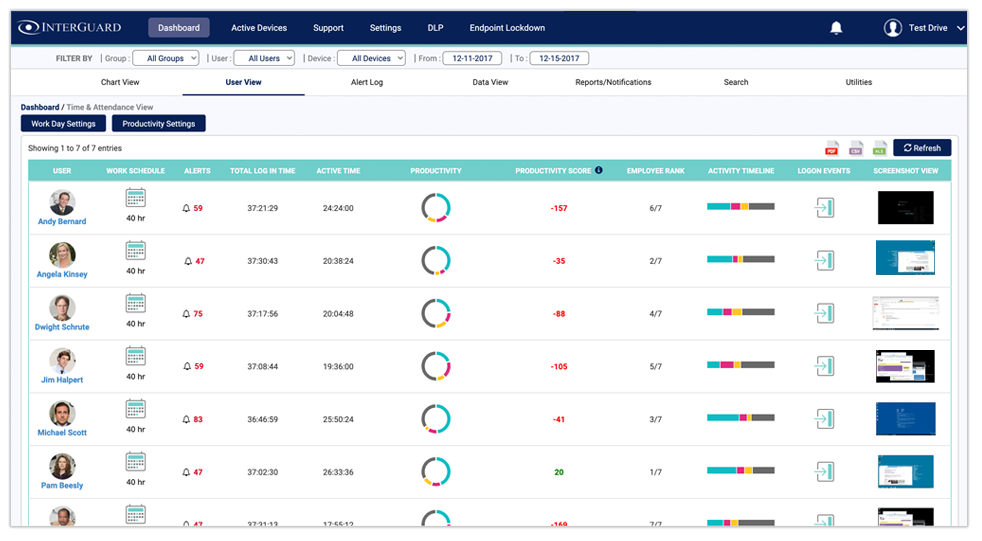 Easy-to-Read Visual Data
The Chart View is a dashboard that gives you a visual representation of employee time and productivity. Choose the charts that best suits your needs, such as:
Idle versus Active Time
Unproductive versus Productive Time
Time Spent Web Browsing / Instant Messaging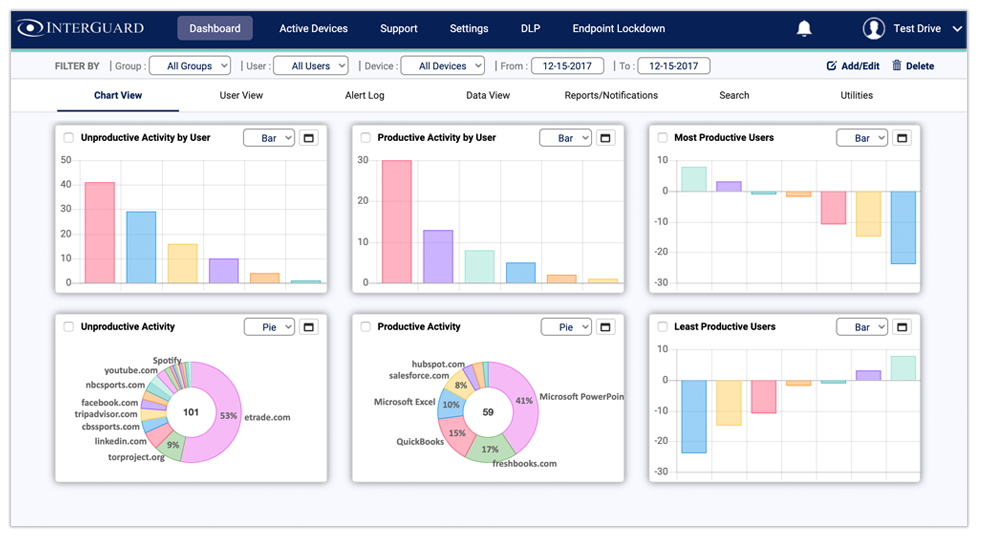 Set Productivity Ratings
Easily set productivity ratings for each website and application activity. You can apply ratings globally or by group.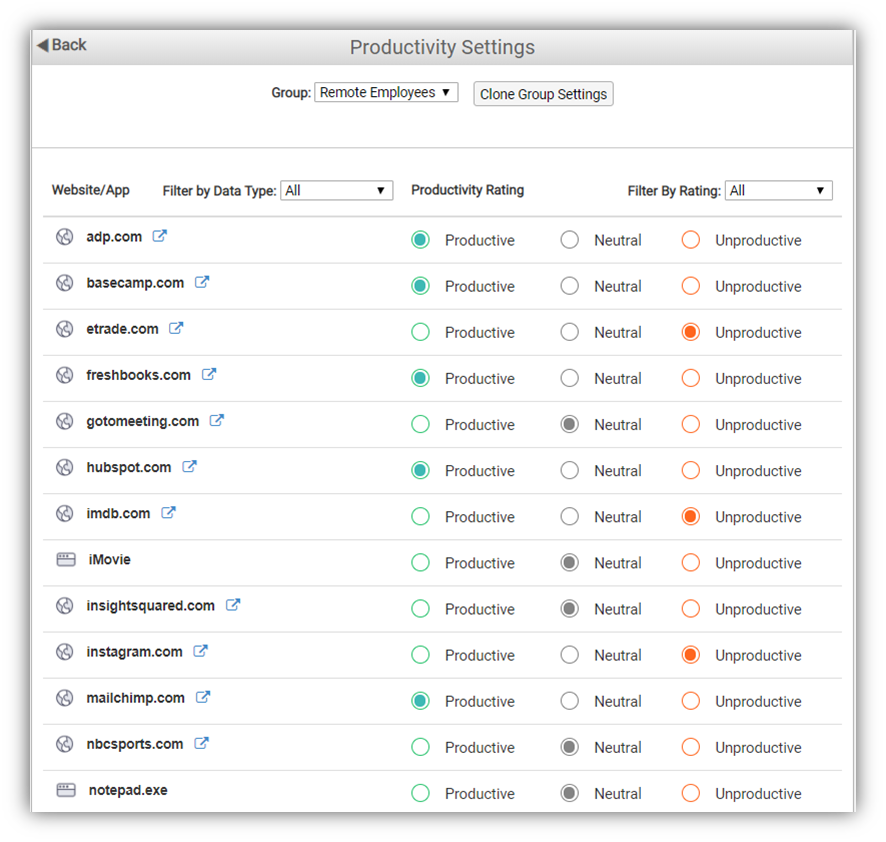 Powerful Reporting
InterGuard makes setting up detailed report easy with our step-by-step wizard. Choose from our pre-set Time Tracking & Attendance reports, or create your own by filtering the time tracking data you need. Find out:
Total Hours Worked
Time Spent on Productive Activities
Which Distractions Use Up the Most Time

1
License
Purchase a license online using our self-service checkout.
2
Download
Download the cell phone monitoring agents from your web-based account, then install them on the cell phone.
3
Monitor
View employee cell phone activity. Takes only a few minutes to appear in your dashboard