Monitor Employee Internet Usage
See Web Browsing & Search Activity
Keep Your Staff Productive and Your Network Secure
---
Monitor All Devices from One Interface With an improved user interface and a gamut of employee productivity monitoring features, InterGuard converts data into useful insights and has a host of proactive alerts for larger businesses, especially those now focused on managing a remote workforce.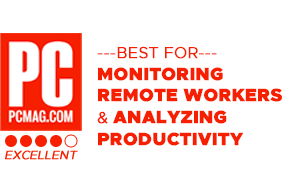 Monitor Employee Online Activity, Web Visits and Search History
InterGuard Employee Internet Usage Monitoring software answers the question, "Are my employees working hard or hardly working?"
Identify Time-Wasters
Is your company losing $12.5k per employee each year? Data shows that the average employee wastes more than two hours each day online - surfing or doing personal tasks. Paying a $50k salary for 40 hours a week – means those stolen hours cost you $12.5k each year.
Spot Company Internet Policy Violations
By monitoring employee internet usage, you can enforce your company's Acceptable Internet Usage Policy and verify compliance to regulations such as CIPA, HIPAA, PCI and more.
Set Policies per Group/User
Set web activity monitoring policies by groups, departments or individual users. For example, spending hours on Facebook might be fine for your digital marketing folks, but totally unacceptable from your finance team.
Easy-to-Use Employee Web Activity Monitoring Software
You don't have to be an IT pro to set up and start monitoring employee internet usage with InterGuard's Employee Monitoring software. Just install the software on the device you want to monitor and InterGuard starts automatically start capturing important details about everything employees are doing online while they should be working.
URL

Domain

Time Spent on Page

Website Category

Search Term

Flagged Policy Violations

Alert Word on Page

Time Stamp
---
Not Just Data: Gain Real Insight into Employee Internet Usage
InterGuard Employee Monitoring software goes beyond just capturing logs and logs of employee internet usage data. We make it easy for you quickly understand valuable insights from your monitored employee web usage activities.
---
Multiple Ways to Sort
We collect the data, you decide how to sort it. View all employee internet activity logs by date, device, user, website, window title, URL, website category, active time, alert word viewed on page, flag and search term.
Keyword Alerts with Screenshots
Use the Alert Word Wizard to select as many keywords as you want, and InterGuard will automatically capture a screenshot any time that keyword is viewed or typed on any webpage. This alert feature is important to protect your business against web-based threats, insider threats, inappropriate office behavior and more. Consider setting up alerts for keywords such as "xxx", "override employee monitoring software", "install file-sharing",etc. Investigate the flagged alert word in context with a screenshot of the open browser and other activity details.
Powerful Search
Great for investigations, InterGuard's, powerful search engine lets you easy locate any logged web activity with specified conditions such as time/date, user, url, domain, device, flag, etc.
Reports
InterGuard Employee Monitoring Report Wizard makes creating reports easy. Customize scheduled or ad-hoc reports to deliver the detailed employee internet usage activity information that matters most to your organization. Examples include:
Risky Websites Visited
Total Visits by Website Category (i.e. gaming, adult)
Any Web Search Containing Specific Word or Phrase (i.e. "resignation letter", "override web filter"
Bird's Eye View
The Chart View is a dashboard that gives you a high-level view of the internet usage activities within your organization. Choose from over 50 different charts to create a online activity and search history snapshot view that best suits your organization, such as:
Potentially Dangerous Websites Visited
Total Websites Visited Trend
Top Websites Visited by Active Time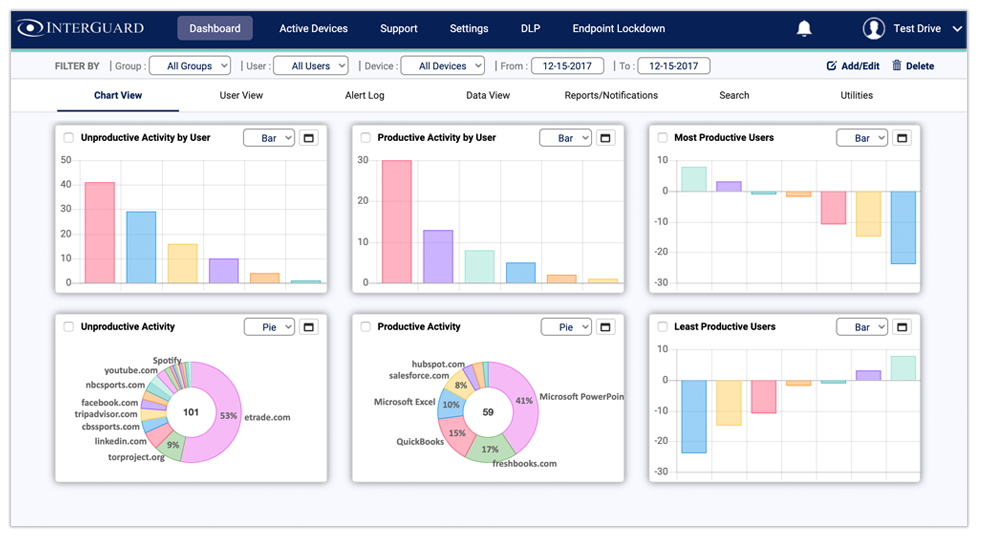 User Behavior Anomaly Detection
Deviation from normal employee web activity may indicate a potential problem. Employee internet usage monitoring software notifies you on anomalous behavior and provides you with detailed contextual information so you can decide if the unusual activity is legitimate. We'll tell you what the norm is, and then you can choose to be notified either of behaviors that deviate by percentage or by absolute number above or below the norm.