Product Overview
Remote Employee Monitoring Made Easy
3 Minute Video
The Software That Keeps Your Business Productive.
Watch as we walk through how our software makes employee monitoring easy.
Remote work, or working from home, has become the new normal for many employers. This has left many managers and executives blind to employee activity that would otherwise be visible in an office setting such as:
What time they started & ended their day?
Are they staying productive and undistracted?
InterGuard is a cloud-based or on-premise employee monitoring solution that records and displays all employee activity, whether it's a PC, virtual desktop, Mac, Chromebook, Android, or iPhone, in an easy to read web interface.
With an improved user interface and a gamut of employee productivity monitoring features, InterGuard converts data into useful insights and has a host of proactive alerts for larger businesses, especially those now focused on managing a remote workforce.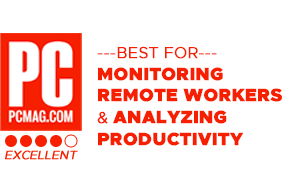 October 20, 2022
In September 2021, 45% of full-time employees were still working remotely, and the trend is hard to reverse. People like the freedom of working from home. Without a […]