Remote Employee Monitoring
The Quick Guide to Improving Productivity & Data Security
Choosing the Remote Employee Monitoring Software That's Right For You
---
Monitor All Devices from One Interface Monitor Remote & Work-From-Home Employees
The Software That Keeps Your Business Safe and Productive
Use of employee monitoring software on
company-provided devices
is becoming a commonplace business practice as more and more organizations embrace the trend of allowing their workforce the flexibility to
work from home
, either as a full-time remote employee or as an office worker who sometimes works from home.
---
Benefits
There's no playbook for remote work. Organizations must decide if keeping workers at home is right for them. Many companies began shifting to a work-from-home office years ago because there are many benefits to allowing employees to work remotely. Regardless of how the effects of the Coronavirus play out on the global workforce – remote work could be the new normal.


Challenges
The new remote work-from-home trend comes with a new set of challenges that did not exist when employees worked exclusively from the office. Employees are drawn to telecommuting because of the flexibility it provides, allowing them to maintain a better work-life balance. But, working remotely doesn't come without its fair share of problems.


---
With an improved user interface and a gamut of employee productivity monitoring features, InterGuard converts data into useful insights and has a host of proactive alerts for larger businesses, especially those now focused on managing a remote workforce.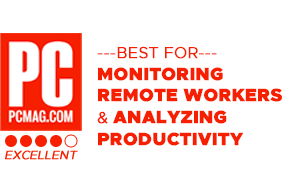 Remote Employee Monitoring Features
There are many different types of solutions to fit every need and budget. While considering if remote employee monitoring is right for you, first consider what types of activities you'd like to track.
---
EMAIL MONITORING
Email monitoring gives employers the ability to review email messages and email attachments sent or received by corporate email or web-based emails. Emails can be viewed and recovered even once they've been deleted.
WEBSITE MONITORING (& BLOCKING)
IM & CHAT MONITORING
Much of employee communication these days is carried out over chat applications like Skype, WhatsApp, and Slack. Chat is often where employers can discover and address harassing and unprofessional interactions before it gets too late.
---
PROGRAM MONITORING (& BLOCKING)
Monitor or block access to dangerous applications, as well as time-wasting software programs (games, video players, etc.)
FILE TRACKING
Remote employee monitoring lets you track sensitive file activity on local hard drives, removable media, in cloud (Dropbox & media) and get alerted to potential exfiltration and unauthorized access.
IDLE VS ACTIVE TIME TRACKING
Measuring a remote employee's productive and idle time gives managers insight into how they use their time, when they log in and out, and how much time it really takes to complete a task.
---
SCREENSHOT MONITORING
Screenshot monitoring is used for conducting remote employee investigations. Looking at the screenshots correlated with the logged activities will provide you with appropriate context and, if needed, indisputable evidence.
KEYLOGGERS
A
keylogger
is a tool that captures any keystrokes typed by the remote employee in any application; including web browsers, chat, MS Office files, emails and more. All keystrokes are logged for future audits, and all risky keywords trigger an immediate alert.
CELL PHONE MONITORING
Monitoring employee cell phone activity enables companies to be sure that phones are used securely for company business. Track user activity across apps, web browsers, text messages, call logs, geo-location and more.
The Benefits of Remote Employee Monitoring
Managers of businesses who deploy a remote employee monitoring software will often see a number of unexpected improvements, in addition to the expected benefits.
---
Protect company assets
With remote employee monitoring, you can remain in control of your company assets even when accessed by employees from outside the office. Get an immediate alert if an employee exports your customer list from your CRM. Go beyond monitoring and preemptively set up DLP policies to block sensitive data from being sent by email, uploaded to the cloud, or copied to an external USB storage device. Suspect employees of fraud or theft? Lockdown the employee's computer remotely, and prevent them from accessing the device as you investigate.
Improve Productivity
Back when both manager and employee worked from the office, spotting unproductive workers didn't require too much effort. Permanently gossiping at the water cooler? Taking extra-long lunches? Quickly closing browsers as you walk behind them? But how do you spot (and more importantly prevent) unproductive activities when they work from home? For most organizations, remote employee monitoring software is the solution – often causing immediate spikes in quality and speed of deliverables. When employees know they are being monitored, they are less likely to give in to distractions or make excuses for missed deadlines and sloppy work.
Manage budgets, timelines & task distribution efficiently
Remote employee monitoring is a valuable tool that managers use to track the time spent on a project and the process in which they move from task to task. Managers can use this data to spot potential delays in a project's deadline and make changes necessary to keep the project on track. For example, monitored data might lead a manager to discover a particular employee might not be right for a particular task. The manager can then decide to give more training to that employee, or shift his tasks with other more qualified team members.
---
Work From Home e-Book
How to Ensure Attendance & Productivity with Remote Workers
The Challenges of Remote Employee Monitoring
Working from home does have its own set of challenges. There are legitimate reasons why it was not adopted on a more widespread basis.
---
No In-Person Supervision
The biggest strip of red tape you're likely to come across during your rollout will be due to the absence of any physical interaction with your employees. So, you won't be able to "keep an eye" on them as easily as in the office. Fortunately, technology provides a few different solutions for that major problem. With employee monitoring software, you can watch employee activity in a different way – while still achieving similar results as with in-office methods.
Issues With Employee Accountability
As a result of the lack of supervision, you're probably worried about keeping your employees on track. The comfort of being at home plus the new distractions that are about to be added into their daily routine could equal a big shift in production and productivity. But, it doesn't have to.
Social Isolation
As for any reputable business owner, the wellbeing of your employees should be your top priority. This includes their mental state, which can be greatly influenced by their individual work environments. For many people, the freedom and privilege of working remotely come at a cost. Spending too much time alone can cause a variety of problems, from reduced concentration to emotional instability.
---
Remote Employee Monitoring FAQ's
What is remote monitoring software?
Remote monitoring software is used by employers to monitor employee activity on company devices. InterGuard software is used to ensure employee productivity, protect sensitive company data, conduct employee investigations and maintain compliance with federal regulations.
How can I monitor employees the work remotely?
When employees work remote, InterGuard's employee monitoring software may be one of the most important tools for maintaining productivity and holding employees accountable for their time management. Some companies may require monitoring and remote time tracking as a contingency for telecommuting.
How do you monitor remote employees ?
With the remote workforce now going mainstream, monitoring computer activity might be the only solution to maintain accountability and keep managers aware of how company time is spent from those virtual workspaces. When the majority of your workforce telecommutes, using InterGuard's employee monitoring software you can keep a watchful eye on employee activity such as: -Logon/logoff data -Internet activity -Social media logins -Geolocation (are they really working from home?) -Screenshots
How do I know if my remote employee is working?
Work from home remote employee monitoring software doesn't just monitor when a worker begins working and when they stop. They can also monitor things like the apps that have been used and websites visited. Some workers may initially see this as an overreach, but these tools are about more than just making sure that your workers aren't spending too much time on Facebook during working hours.
An InterGuard Case Study
Law Firm Solves Work-From-Home Concerns with InterGuard
The Best Remote Employee Monitoring Software Makes Insight Easy
Move from reactive to proactive!
---