Data Loss Prevention Software
Prevent Employees and Malicious Insiders from Stealing Sensitive Data
Try it Free Today
Endpoint-Based Data Loss Prevention Solution
Block or report on sensitive data leakage via email, web forms, email attachments, removable media, USB devices (currently unsupported in Windows); as well as data saved on local drives (even remote laptops). Global policies work whether the endpoint is on or off the corporate network. Ideal for distributed and remote staff. Policies can be easily customized.
InterGuard is Citrix ready.
---
How is InterGuard Different?
Works On and Off Network
Deployed at the endpoint, InterGuard works whether your employees on their computers from the office or from home.
No network or appliance required
Ideal for remote employees
---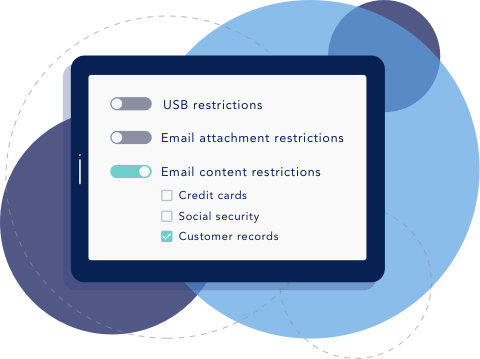 ---
Data in Motion – Email

Data at Rest

Customizable Policies

Data in Motion – USB*

Real Time Notifications

Works On & Off Network

*Currently not supported in Windows 10

1
License
Either purchase license(s) or sign up for our Free Trial to create your web-based account.
2
Download
Download the agents from your web-based account. Remote deployment available for 10 licenses or more.
3
Monitor
Login to your web-based management console to define granular access and exfiltration controls, including user-based, peer-group based and time-of-day restrictions.
---
Our Cloud
Simply download licenses remotely over your network to work stations using our NetDeploy tool, which integrates with your Active Directory. Leverage our cloud infrastructure to make settings and view reports. No need to buy or setup any hardware.
---
Your Cloud
Want to host your own data? As long as you have SQL Server (Standard or Enterprise) and an existing Windows Server (2012, 2014, 2016 or 2017) then we will provide you with an installer that creates a database instance for InterGuard. No need to buy any additional hardware.